Boone County Scholarship Program
The Boone County chapter has been awarding scholarships to graduating Boone County high school seniors since 1979. These recipients are aspiring and accomplished students who have demonstrated tremendous achievements in their community and academic studies.
Scholarship Applications are awarded each spring.
Boone County In the Community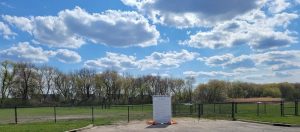 Dog Park Donation
In March 2019, the Belvidere Board of Realtors® provided a $500 donation to Ian Neibarger to help with the completion of his Eagle Scout Service Project in Poplar Grove. Neibarger took on the daunting task of construct a dog park by revitalizing a vacant piece of property across from Poplar Grove Village Hall. Not only did Ian have to reach his fundraising goal, but the Village purchased additional land to ensure sufficient space.
The dog park is roughly 1.5 acres and located along the Long Prairie Trail. The fencing for the dog park was completed in April 2021. The Village has a few more amenities to install, but the dog park will hopefully be open by mid-May.
2023 Boone Chapter Council
Cathy Fiebig - Chair
Cassandra Hoch -Vice Chair
Andrew Kordash
Carla Mizner
Lindsay Moore
Natalie Mulhall
Jessica Rielly
Leann Sacket
Wendy Scharer
Belvidere Administrator
Karen Thomas
215 N. State Street | Belvidere
815.544.2719
Social Media: Facebook
Office Hours: M-F 10:00-2:00
Boone County REALTORS® Commercial Innovation Grant

Boone County REALTORS®, a Chapter of Rockford Area REALTORS® (RAR), presented a $𝟮,𝟱𝟬𝟬 contribution to Growth Dimensions Economic Development for Belvidere & Boone County. (Watch the
video
)
The REALTOR® association secured a National Association of REALTORS® Commercial Innovation grant to partner with Growth Dimensions in creating an Invest in Boone County video that will be used as a marketing tool to encourage revitalization and growth of commercial and residential development.
2023 Boone County Sponsors