REALTORS® Political Action Committee Overview
RPAC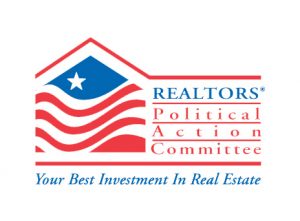 stands for the REALTORS® Political Action Committee. A PAC is a legal means by which interested individuals with common goals, like a trade association, ban together for the purposes of political action.
Since 1969, the REALTORS® Political Action Committee (RPAC) has promoted the election of pro-REALTOR® candidates across the United States. The purpose of RPAC is clear: voluntary contributions made by REALTORS® are used to help elect candidates who understand and support their interests. These are not members' dues; this is money given freely by REALTORS® in recognition of the importance of the political process. The REALTORS® Political Action Committee and other political fundraising are the keys to protecting and promoting the real estate industry.
What does RPAC do?


As a real estate professional, RPAC is your PAC. It is also the real estate industry's vehicle for political success. REALTOR® volunteers raise contributions from other members across the state. These funds are then pooled together and contributed on a nonpartisan basis to public office candidates who support housing and real estate interests.
RPAC facts  
All fundraising efforts and contributions to candidates are administered by a board of RPAC trustees, representing each local board and all areas of the state. Decisions made by the trustees are submitted to the WRA board of directors.
Funds are disbursed on a nonpartisan basis to Democrats and Republicans alike, based on issues and support of the REALTOR® legislative agenda.
RPAC is one of the largest trade-association PACs in the world and in Illinois.
Why should RPAC interest you?
RPAC is a critical business partner for REALTORS®. Up to 4,000 bills are introduced each session in the state legislature, and elections determine who will be voting on these bills. RPAC helps to elect the people who write the laws with which you and your business must live. Through extensive research and ongoing monitoring, RPAC keeps real estate professionals informed, involved and influential regarding the legislative decisions that are important to the industry.
Does RPAC buy votes?
RPAC does not buy votes. Candidates and public officials are honorable people whose votes are not for sale. However, by helping to elect public policy decision-makers, RPAC assures REALTORS® the opportunity to present their views and be heard. RPAC fully complies with all state and federal election laws.
2022 RPAC
Investors
Sue Altensey
Karen Barbagallo
Amy Barnes
Sandy Basel
Blackhawk Bank
Josh Bohling
Conor Brown
Kristina Campbell
Mori Jo Conkrite
Jean Crosby
Pam DeSanti
Envoy Mortgage
First Northern Credit Union
Neeley Erickson
Kevin Fisher
Jerry Gibson
GreenState Mortgage
Ashley Heilman
Robin Henry
Garret Hillary
Kevin Hortsman
Andrew (AJ) Kordash
Jon Krause
Josh Longamore
Brad Marinelli
Natalie Mulhall
Alisa Patterson
Heather Porter
Lisa Radke
Anne Sadler
Rose Schlickman
Russ Squires
Ginger Sreenan
Angela Stodden
Erich Stonewall
James Sullivan
Mark Sumpter
Title Underwriters
Dee Valentino
Angie Wait-Weber
Women's Council of REALTORS® Rockford
Frank Wehrstein
Joan Welt
Marcia Williams
Contributions to RPAC are not deductible for federal income tax purposes. Contributions are voluntary and are used for political purposes. The amounts indicated are merely guidelines and you may contribute more or less than the suggested amounts. The National Association of REALTORS® and its state and local associations will not favor or disadvantage any member because of the amount contributed or decision not to contribute. You may refuse to contribute without reprisal. Up to thirty percent (30%) may be sent to National RPAC to support federal candidates and is charged against your limits under 2 U.S.C. 441a. A copy of our report filed with the State Board of Elections is (or will be) available on the Board's official website www.elections.il.gov or for purchase from the State Board of Elections, Springfield, Illinois.